KPM CPAS & ADVISORS PROMOTES SKYLAR SMITH TO SHAREHOLDER
Springfield, MO – KPM CPAs & Advisors (KPM) is excited to announce the promotion of Skylar W. Smith to Shareholder of KPM CPAs & Advisors and Partner, Wealth Advisor of KPM Wealth Advisors, LLC (KPM Wealth Advisors). Skylar is a financial advisor and helps lead KPM Wealth Advisors.
"We are excited to congratulate Skylar on these exciting promotions," stated Jay W. McIntyre, CPA, a Shareholder with KPM CPAs & Advisors and Financial Advisor with KPM Wealth Advisors. "He is a great asset to our team and the clients he serves. Skylar is a client-centered financial professional who continues to raise the bar and lead by example."
Skylar has more than 12 years of experience in the financial services industry and helps lead KPM Wealth Advisors; developing strategies and providing financial analysis to clients. His practice emphasis includes asset management, insurance planning, retirement income planning, and lifestyle management. Learn more about KPM Wealth Advisors today.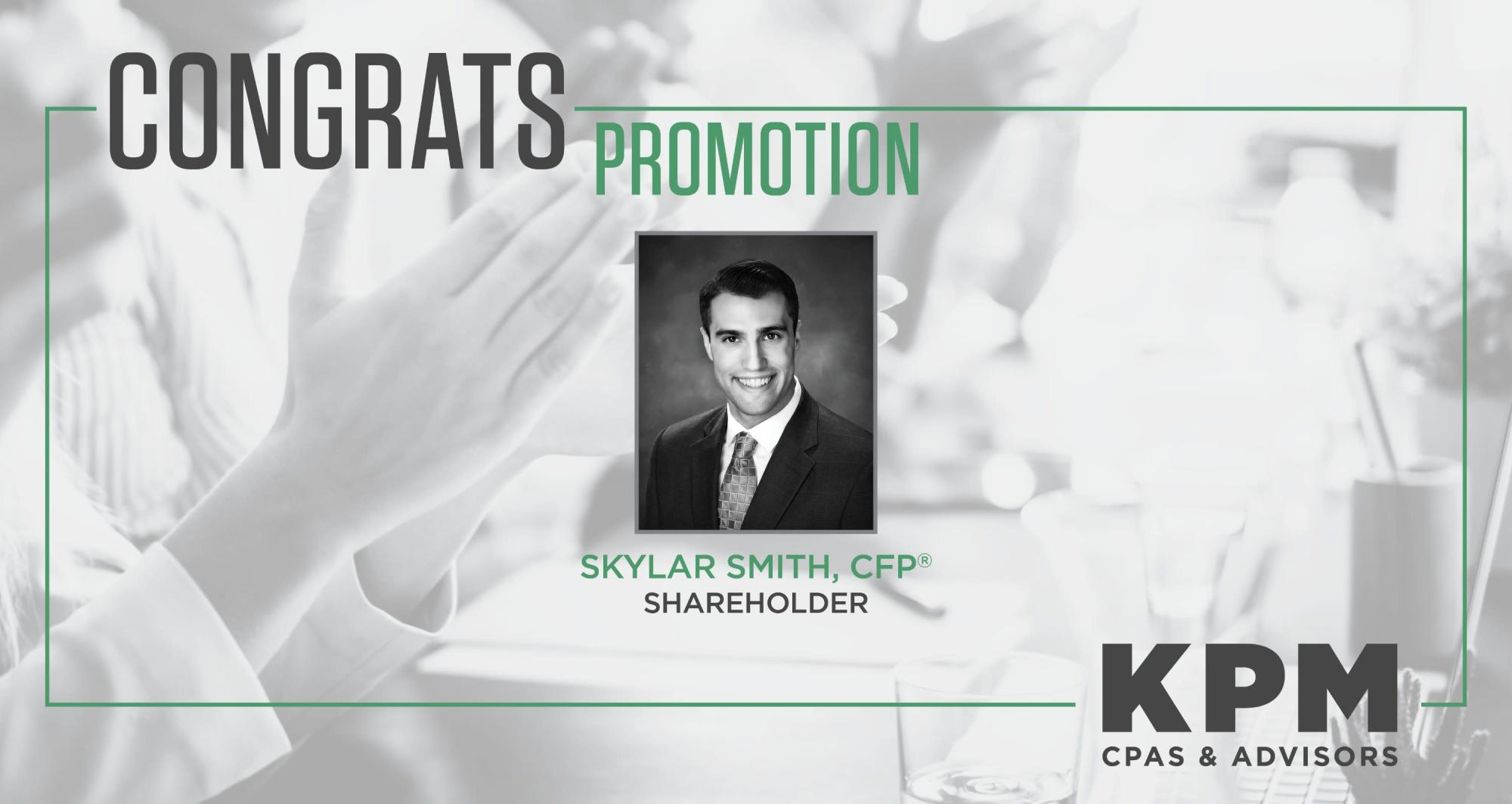 About KPM Wealth Advisors
Established in 2001, KPM Wealth Advisors offers a vast array of wealth management services to help families build, preserve, and leave a legacy. We help clients manage their finances, develop a strategy, stay on track, and better understand the big picture of both long and short-term financial goals. Securities offered through Cetera Financial Specialists LLC (doing insurance business in CA as CFGFS Insurance Agency LLC), member FINRA / SIPC. Advisory Services offered through Cetera Investment Advisers LLC. Cetera is under separate ownership from any other named entity.
Gallery
Media Contact : Megan Artz, Marketing Director
Source : KPM CPAs & Advisors