Louis Toth Receives the Jim McNabb Engineering Innovation Award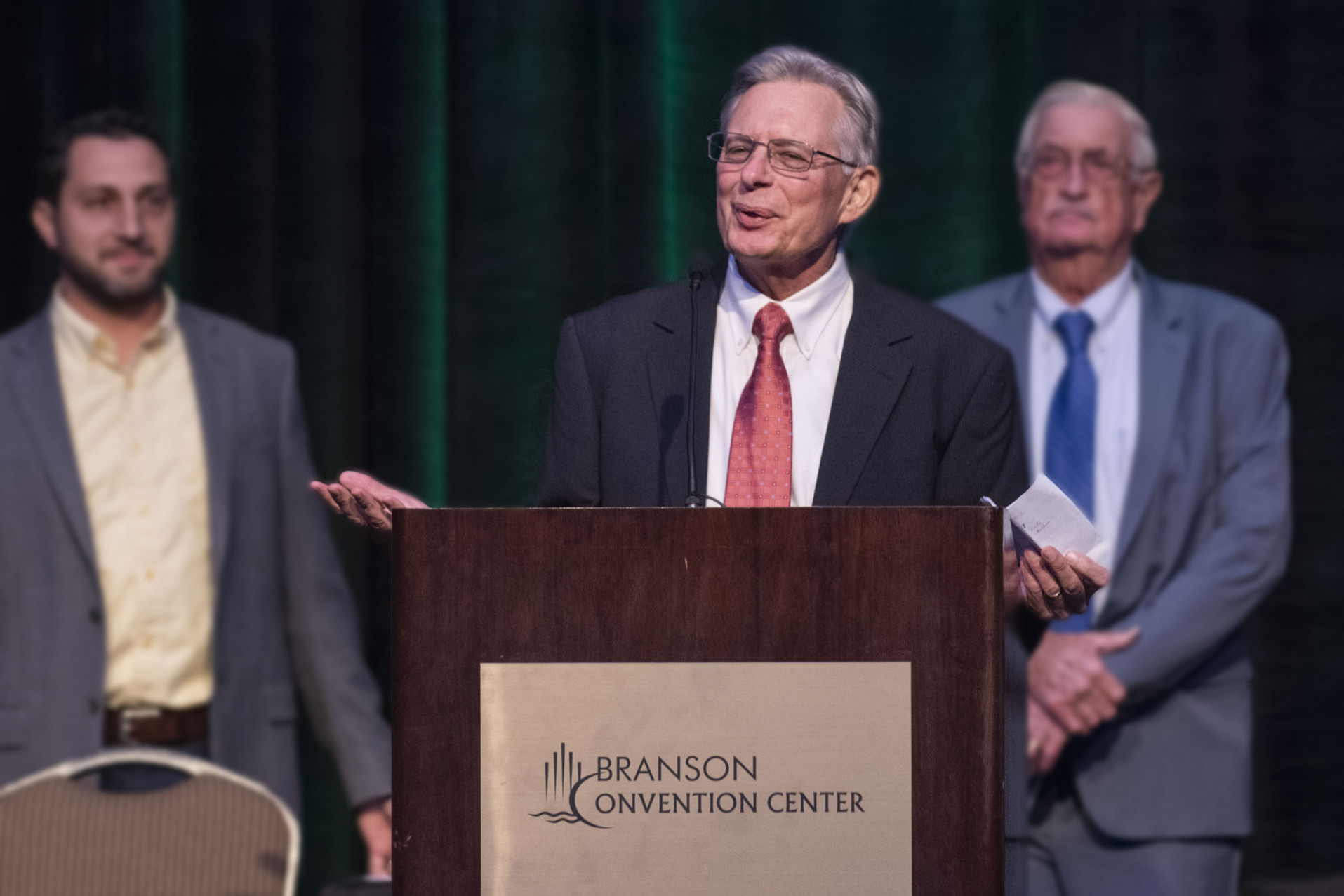 It was an honor for our founder, Louis Toth, to receive the Jim McNabb Engineering Innovation Award. This award gives recognition to an engineer whose work has served to enhance the entire State of Missouri. We celebrate his dedication and everything he has done to contribute to the communities throughout Missouri.
Thank you to Caleb Jones, CEO Association of Missouri Electric Cooperatives, for presenting this award.
"The purpose of the Jim McNabb Engineering Innovation Award is to give recognition to an outstanding engineer whose innovative thinking has in some way benefitted the entire state by improving the efficiency, increasing the reliability or reducing the costs for the generation and transmission of electricity on the statewide rural electric grid in the spirit of Jim McNabb. To earn this award, a nominee must be considered to have contributed clearly above and beyond the normal routine call of duty in a way that makes a significant impact. Such a person is our award recipient, Louis Toth." - Speech delivered by Caleb Jones.
Louis has been an asset to Missouri since he moved here in 1972, first working as an engineer for Allgeier Martin. He started his first engineering company in 1978 before ultimately incorporating Toth Associates (TOTH) in 2003. TOTH first specialized in the niche market of electric utility engineering and has since grown into a multidisciplinary firm that features electrical, structural, and civil engineers.
Toth and Associates, Inc. started with a handful of people and has grown to over 100 employees, making it the Springfield area's largest consulting engineering firm. That distinction has been recognized by the Springfield Business Journal for nine consecutive years. Toth and Associates, Inc. continues to grow, adding even more jobs to the Springfield landscape while assisting the communities served.
Louis has been actively contributing to communities throughout Missouri for more than 40 years. His work record demonstrates the devotion and impact he has had on the electrification of both rural and municipal areas. He has helped bring power to homes and businesses through engineering, planning, and design. Throughout his career in Missouri, Louis has worked with every electric cooperative in the State of Missouri as well as numerous municipal systems, plus he has contributed to thousands of miles of electric infrastructure.
While bringing electricity to communities is not a solo effort, Louis has had complete project responsibility on a client basis in all areas of planning, design, and construction contract administration for electric utility systems. He has overseen specific design projects and construction projects in areas of generation, transmission, substation, and distribution, plus rates, planning, relaying, and other aspects of electric utility engineering.
He has been part of the Rotary, served in various community organizations, such as Big Brothers Big Sisters of the Ozarks, and is a member of the Missouri Society of Professional Engineers, National Society of Professional Engineers, and the Institute of Electrical and Electronics Engineers. One of Louis' biggest contributions is that of caring for his employees and what is important to them. Therefore, his company contributes to those causes and organizations that his employees are involved in, and he encourages this involvement. Toth and Associates has contributed significant resources to those efforts.
His life work has made our systems better and has greatly contributed to the quality of life in the 21st century for rural Missouri. The Jim McNabb Engineering Innovation Award recognizes those contributions, and Louis humbly received this award from Association of Missouri Electric Cooperatives on October 3, 2019.
Media Contact : Kevin Grinder