OAW Founder Writers Book on Grief
Founder of On Angels' Wings Publishes Book on Helping Others Grieve
A book launch party was held on August 29
Springfield, Missouri: On Angels' Wings founder, President and Executive Director, Michelle L. Cramer, published Unshattered Grief: Helping others through loss without breaking them… again. The book, which she says took five years to write, became available on Amazon in July 2022. In celebration of this accomplishment, Cramer hosted a book launch party at the OAW studio on August 29, during which she read excerpts from her book and provided signed copies to the attendees.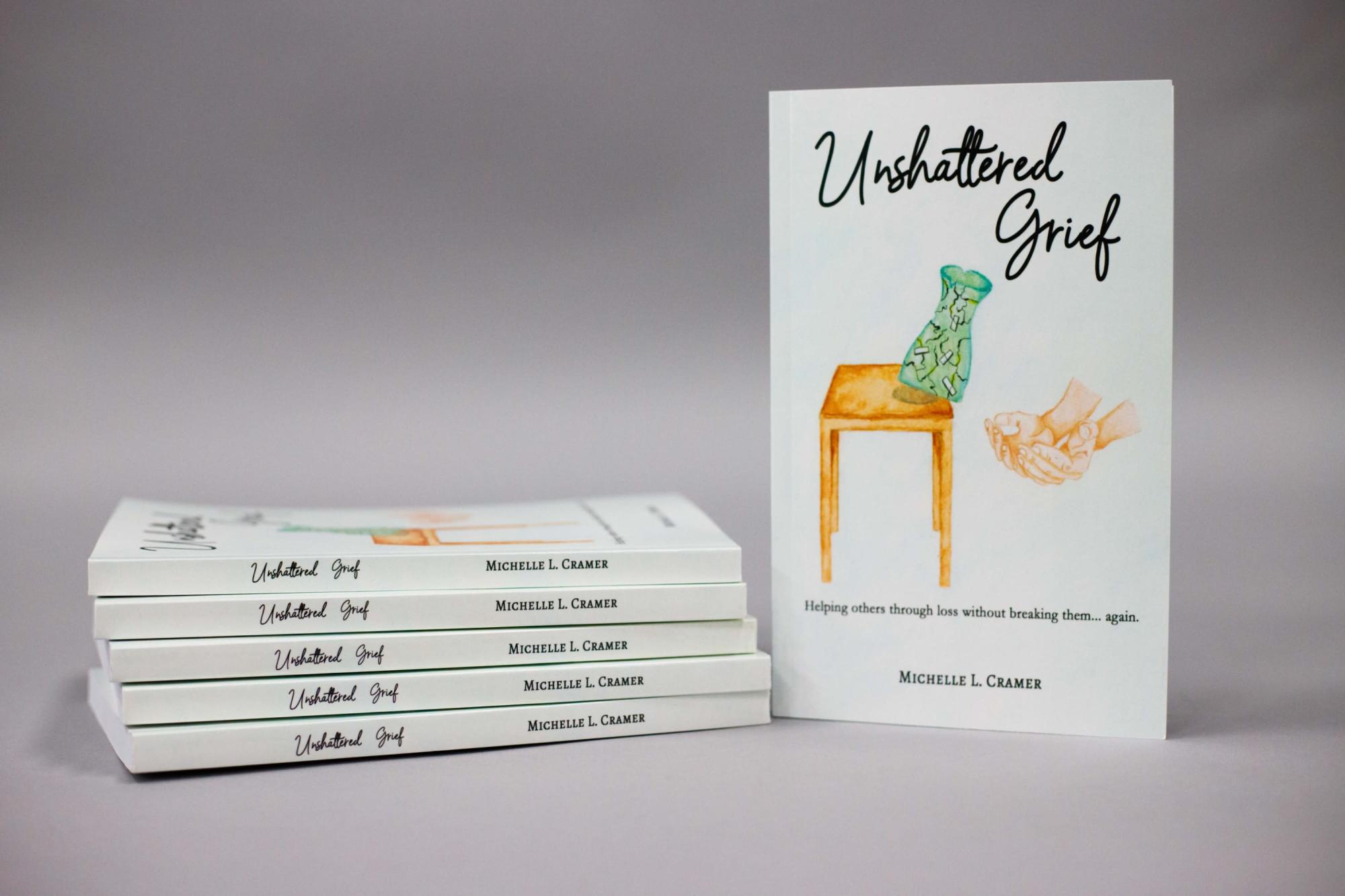 Cramer has been working closely with bereaved families for nearly 15 years, a decade of which has been as founder and executive director of On Angels' Wings, a Missouri non-profit organization that serves families with a medically fragile child. This passion also led her to become an Advanced Certified Grief Recovery Method Specialist in 2020. She's walked side-by-side with these families along the entirety of their grief journey and, through that experience, has observed how friends and family who mean well can actually cause additional pain to the griever.
"When grieving the loss of someone deeply loved, it's like you're a vase that has been thrown to the ground, shattered into 1000 pieces, and put back together again, only to constantly teeter on the edge of shelf," Cramer explains. "Those that don't understand the depth of the pain will say or do something intended to help because the cracks in the vase make them uncomfortable. But, more often than not, those words and actions only make the pain worse for the griever – it's like outsiders push the vase off the shelf and it shatters again."
"In Unshattered Grief," Cramer adds, "I want to help those on the outside of a deeply felt loss – those who cannot fully understand the effect that such a loss has – to learn how to handle their grieving loved ones with care; to leave their fragile grief unshattered."
Unshattered Grief is currently available in print and Kindle version on Amazon. The audio version is in process and should be available through Audible and its distribution partners by the end of September 2022.
_______________________________
On Angels' Wings is a Missouri non-profit organization that seeks to improve the mental health and wellness of families with medically fragile children (regardless of race, ethnicity, class status or orientation) through therapeutic photography and grief recovery services, free of charge. oawphoto.org
Grief Recovery Method is an action-based, directed approach to finding healing from loss through one-on-one or group 8-week programs. It is the only evidence-based grief recovery program in the world. Certified specialists guide participants through the program as they learn to recognize how deeply grief impacts their lives and to address that grief head-on, one relationship at a time. griefrecoverymethod.com
On Angels' Wings
Michelle Cramer, Executive Director
417-834-3670
Gallery
Unshattered Grief by Michelle L. Cramer